CURRENT PRACTICE SCHEDULES (BEGINNING MAY 10, 2021)
Beginning THIS Monday (5/10/21) the new schedule will be as follows.
ALL PLAYERS are encouraged to continue practicing through the end of June, regardless of participation on all-star teams, so you are able to have as much volleyball as you can get before your next school season.
14 TECHNO / 16 LIGHTNING / 17 MOMENTUM ALL-STAR PRACTICES - PLUS ANYONE ELSE WANTING TO KEEP WORKING!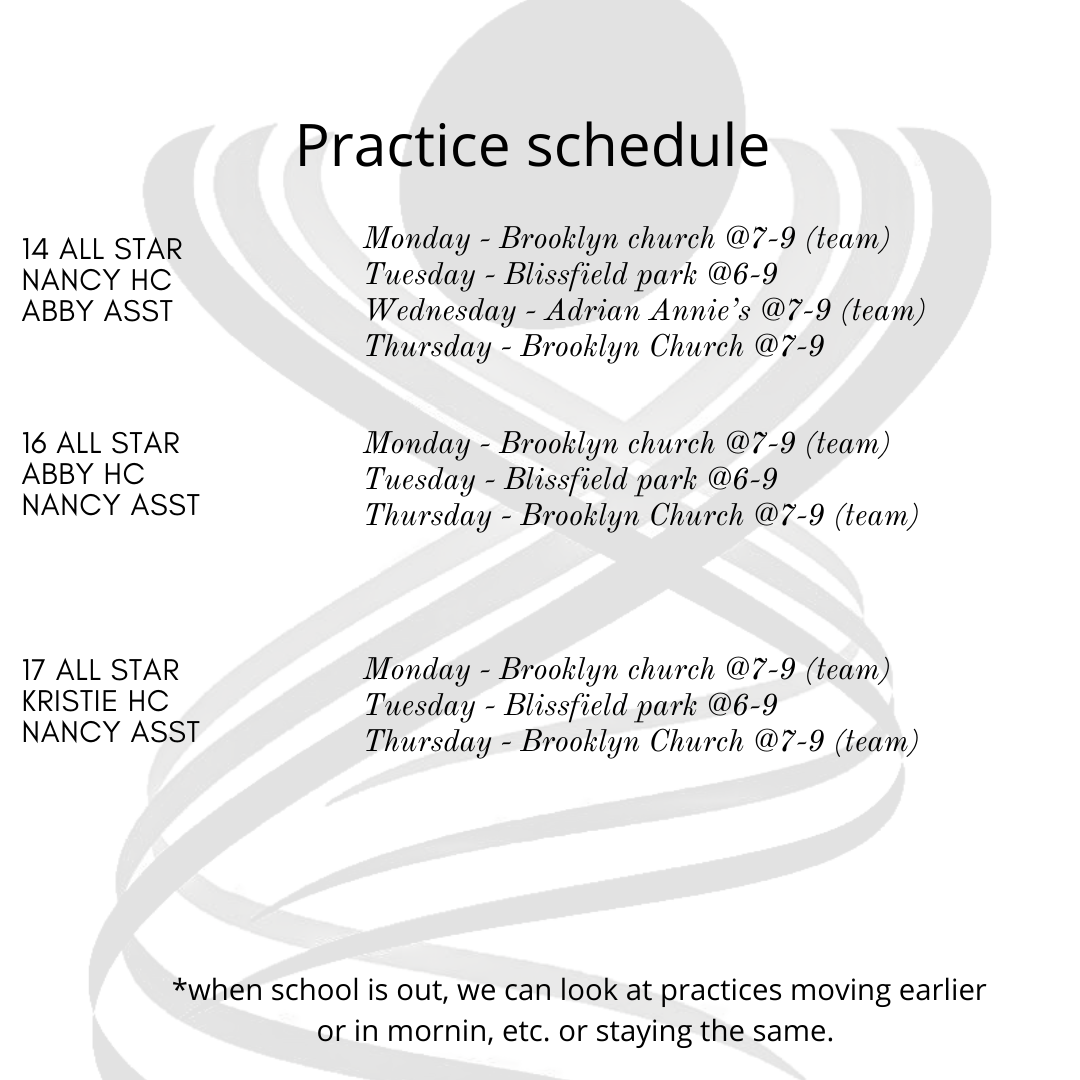 14 TECHNO - 16 LIGHTNING - 17 MOMENTUM ALL-STAR SCHEDULES
| Month | DAY | 17 MOMENTUM ALL STARS | 16 LIGHTNING ALL STARS | 14 TECHNO ALL STARS |
| --- | --- | --- | --- | --- |
| MAY | 22 | | | MAY MADNESS - MAUMEE, OH |
| | 23 | | | MAY MADNESS - MAUMEE, OH |
| | 29 | EAST COAST CHAMPIONSHIPS - PITTSBURGH | | EAST COAST CHAMPIONSHIPS - PITTSBURGH |
| | 30 | EAST COAST CHAMPIONSHIPS - PITTSBURGH | | EAST COAST CHAMPIONSHIPS - PITTSBURGH |
| | 31 | EAST COAST CHAMPIONSHIPS - PITTSBURGH | | EAST COAST CHAMPIONSHIPS - PITTSBURGH |
| JUNE | 11 | | | ASICS JR. NATIONALS - CHICAGO |
| | 12 | | | ASICS JR. NATIONALS - CHICAGO |
| | 13 | | | ASICS JR. NATIONALS - CHICAGO |
| | 26 | AAU NATIONALS - ORLANDO | AAU NATIONALS - ORLANDO | |
| | 27 | AAU NATIONALS - ORLANDO | AAU NATIONALS - ORLANDO | |
| | 28 | AAU NATIONALS - ORLANDO | AAU NATIONALS - ORLANDO | |
| | 29 | AAU NATIONALS - ORLANDO | | |