Annual Power 5 Foundation Golf Outing for 2022
Join High Street Athletics and Love Thy Neighbor Boutique for our 3rd Annual Power 5 Foundation golf outing at The Legacy By Arthur Hills in Ottawa Lake, Michigan!  Saturday July 30 is the date and fun and prizes are on the ticket!  Register as an individual or an entire team here:  Power 5 Golf Outing Registration
High Street Athletics is the organization through which sport opportunities are facilitated.  Currently featuring volleyball and located in Southeast Michigan, we will be growing to include all youth sports via the High Street Youth Academy.
Love Thy Neighbor is a brick and mortar and online store located in Blissfield, Michigan.  We are dedicated to raising funds for the Power 5 Foundation through retail sales of local and handcrafted items, as well as sports equipment and team outfitting.  We also produces fundraising products for local schools.
Read more about the Power 5 Foundation here: Power 5 Foundation About Page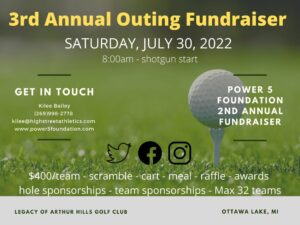 Our Mission
The Power 5 Foundation believes in paying it forward to provide opportunities through sport.
A percentage of each purchase/sale through Love Thy Neighbor, on-line or in store, will go toward a current athlete (your choice) or the general "Pay-It-Forward" Fund of High Street Athletics and High Street Athletics Youth Academy! 
Currently the foundation helps 67 athletes in the travel volleyball program with everything from tuition, equipment, recruiting, ACT/SAT prep, college recruiting, tutoring and much more! 
We are currently providing FREE, elite and professional, VOLLEYBALL training to ANY boy or girl in grade 2-6, from ANY school all summer long.  This is completely due to the fundraising efforts of supporters like you.
Any school hosting the monthly youth events and High Street Athletics events receives the money from the event to support and give back to each participating community.
Support our foundation, and your local community, by shopping our store, Love Thy Neighbor, or making a donation to our foundation. The Power 5 Foundation is a registered 501c(3) organization.  All donations are tax deductible.